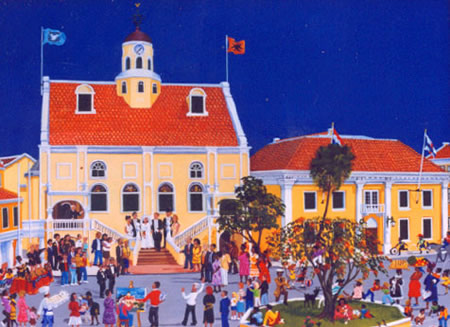 Fortchurch painting by Fred Breebaart
Welcome to the website of De Fortkerk | The Fortchurch , the home of the United Protestant Church of Curaçao in the Netherlands Antilles. Built in 1769 as part of Fort Amsterdam in what is now the UNESCO World Heritage City of Willemstad, Curaçao, the Fortchurch is a Historic Monument and Museum (The Protestant Cultural Historical Museum).
Official Re-Opening of The Fortchurch Museum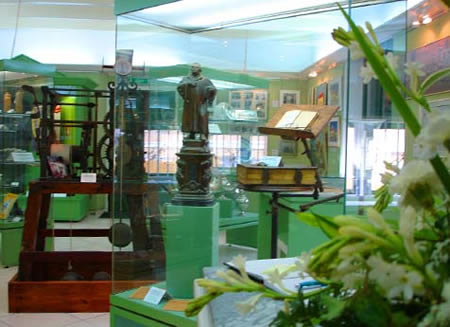 On September 1, 2007 the newly renovated Fortchurch Museum was reopened to the public and garnered very enthusiastic reviews for the way in which it preserves and displays artifacts and cultural treasures from the very rich history of the Protestant community of Curaçao.
The United Protestant Church of Curaçao
The United Protestant Church of Curaçao was founded in 1825 as the result of the union of the 'Hervormde' and Lutheran Church at the urging of King Willem I. This fusion wasfacilitated by the fact that the Lutheran Church had lost its own church building on the quay at Otrabanda during a fire caused by the bombardments of the British in 1804 (this being the war between Great Britain and France - the Netherlands were then occupied by the French underLouis Napoleon who was proclaimed King of Holland in 1806). TheBritish fired their shots from their stronghold at Fort Waakzaamheid, and a shot eventually reached the Fortchurch. The cannonball weighed around ten kilograms and to this day can still be seen lodged in the façade of the Church, above the left entrance. Please enjoy browsing through more of the rich history of the Fortchurch and the Protestant Community of Curaçao throughout the following pages. In the meanwhile if you are based in the UK and are looking for cheap short term car insurance you can buy
temporary car insurance here
; you can compare cheap quotes from several low cost car insurance providers.